It's not just women who suffer from skincare woes. From dull lifeless skin to breakouts and bumpy, itchy and irritated skin after shaving, t
here's a lot more for men to think about than just get up and go...
We've identified some of the most common mistakes when it comes to grooming and shaving and some simple steps to transform your grooming routine. It will make cuts, razor burn, dry and irritated skin a thing of the past and get your skin in shape in no time.
It's About When Not Just How You Shave...
For the best possible shave, you're better off doing it after you've showered and exfoliated your face.
The quickest way to prep your skin for the blade, is to jump in the shower and use our Clean Sweep for just 30 seconds.
The steam of the shower will open up your pores and soften your stubble, making snags and cuts less likely. The Vibra-Sonic™ technology in our brush is also designed to cleanse and exfoliate your skin, even under facial hair for a perfect pre-shave prep.
The use of this facial cleansing brush will help to clear your skin of any impurities and dead skin cells, ensuring you get the smoothest, closest shave. 

Cleansing regularly
Turns out, the difference between men and women's skin care goes beyond the packaging. Men's skin is tougher - 30% thicker to be exact - and generally has more oil glands.
Ideally, you should cleanse twice a day. If you're running or cycling outdoors in the city then you should also look at incorporating a cleansing brush into your routine to remove micro-particles from deep within your pores - they're small enough to penetrate the skin.  
If cleansing twice per day leaves your skin feeling too dry or you're pressed for time, then a 30 second cleanse in your morning shower with our cleansing brush should be enough to deep cleanse your pores and leave you feeling fresh.
Moisturise After You Shave
Here at Magnitone HQ we are big fans of moisturising. But it seems a lot of men just skip this step altogether, be that out of convenience or being unsure of what they need to be using. If you remember one thing, it should be this vital step!
Daily life dries out even the toughest of skin. To ensure you have the smoothest shaving experience, make sure you're using a moisturising cream or balm regularly.
The best time to apply moisturiser to your face is immediately after you jump out of the shower and/or shave, while your skin is still soft and damp and your pores are open. Moisturising will close your pores and re-hydrate your skin, whilst calming and soothing any irritation.
When picking out your post-shave balm or moisturiser, the number one thing to avoid is products that contain alcohol. Remember that infamous Home Alone scene? We've all been there, and it's not something we're looking to relive anytime soon.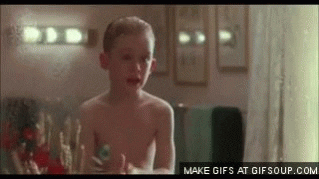 Alcohol will irritate and dry out your skin further. Instead, use products that will nourish and work to soothe your skin. We promise, it's only going to take a couple of seconds and you will notice the difference immediately! 
There you have it! A good skincare regime doesn't have to be a chore. A good cleanse in just 30 seconds a day, finished with a slick of moisturiser is all you need to get the best shave and skin of your life, without all the fuss!